I was having a drink recently with my friend Joe when the subject of photography, porn and the internet came up. She was fascinated by the idea of people looking at her while doing something sexy and she asked me what I thought her chances of being a porn star were. I decided that honesty was the best policy and basically said that while she was cute, I didn't reckon she would make a good porn star. I thought she was just a bit too nice.

Well, she didn't take this very well :) I got her another drink to make up for things and we talked about other things for a while. Then, out of the blue, she turned to me and said that she thought she would make a great porn star and would I be interested in taking some photographs of her. I asked her what sort of photos she was thinking of; topless, totally naked, legs wide, playing with toys, being fucked?

When I mentioned the last, she blushed bright red but I also noticed that her nipples were rock hard, plainly visible through her bra and tee-shirt, so something I'd suggested must have turned her on!!

Now, I had my digital camera with me that evening as I'd been taking some shots around town before I met up with Joe. She took the camera and said, "Well, no time like the present". I was a bit shocked at that, expecting her to want me to go through some different scenarios with her. Instead she just announced that she would like to shoot her giving a hand job. I asked her if she was positive, wanting to make sure that she knew what she was doing. We were both a little drunk (well, maybe a bit more than that) but she was adamant that she wanted to do it.

She started to rub my legs with her hands, moving them slowly from my knees to my crotch. I, of course, couldn't help nature taking it's course and the bulge in my trousers threatened to burst the buttons. I took a couple of photos of her doing this, her smiling up at the camera with her hand on my bulge. Next, she undid the buttons of my fly and slipped her hand inside my jeans. She was rubbing my dick through the material of my underwear, making me get harder and harder. She said she wanted to make sure that I was ready for action (I did say she was a bit drunk).

She then undid my jeans and pulled them off, taking my boxers with them. There was I, camera in hand with my dick at full mast and her hands wrapped round it. Naturally, I took a couple more photographs of this as she moved her hands up and down the length of my shaft, using my pre-cum as a lubricant. She then used one hand to cup my balls, squeezing them tight. I got the distinct impression that she had forgotten about the camera and was interested in my equipment.

I decided that I wanted a less close up shot and stopped her for a bit while I positioned the camera a bit away from us. I set the self timer and got back in position just in time for Joe to grab me. Here is the resulting photo, one of only two that Joe let me keep.


I quite liked the resulting photo but I think it was at this point that Joe began to have second thoughts about having pictures of her appearing on the Internet. I took the camera back and put it to one side. I said that I thought that was enough photos for the moment. I was standing there with my dick starting to wilt a bit, not expecting things to go much further. I even started to look for my clothes. Joe was sitting on the floor in front of me. She smiled up at me and shuffled over. She started to stroke my thighs, moving her hand around to stroke my bum. I reacted as any red blooded man would and my disk started to rise up again, throbbing, the head appearing from my foreskin all by itself. Joe was amazed at this and ran her finger down my length, catching a drop of liquid from my glans and then licking her finger.

I reached down and stroked her breasts, feeling the hardness of her nipples. I reached down further, grabbed the bottom of her tee-shirt and pulled it (and her bra) over her head. The sight of those pert little breasts was more than I could bare. Joe continued t run her hands up and down my shaft, rubbing my glans with her thumbs, tickling the little hole with her finger nail. I could feel the pressure building up in my balls. Joe noticed that they were getting ready to blow and said she would like one last photograph, one of me cumming on her. I quickly grabbed the camera and just managed to get a shot off before shooting off :)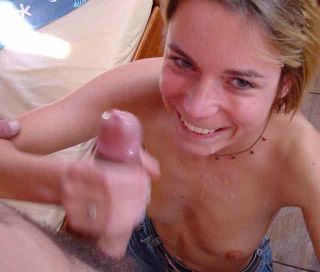 I love this photo and I'm really pleased that Joe let me put it up here. Her smile is fantastic, much better than the other photo and I especially like the sight of my cum on her chest. It's only a pity that I didn't get a blow job out of the session. Maybe next time I get drunk with Joe, and there will be a next time.
L&X