In a previous posting, I mentioned watching a movies with an incredibly beautiful girl in it. At the time I had no idea who she was or if she had done anything else.

I recently downloaded a movie called The Secret Diary Of A Lesbian Nympho. Imagine my delight and surprise when one of the stars of this vignette was none other than the cute dark haired girl. It turns out that her name (at least professionally) is Pixie, although she is also known as Nadia or Andrea Spinks.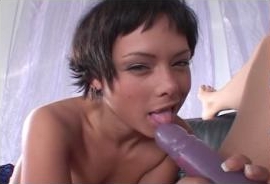 Here is a picture of her that I've managed to find. As you can see she is incredible, my cock gets hard just hearing her speak let alone seeing her getting fucked by, and fucking, another girl.
Follow up: I've just learned that she has retired from making these fabulous movies. I'm totally gutted.